Saturday, January 3, 2015
3:56 AM
APP ScanM5X for Android @christian91, ScanTwin
Wireless Data Connection with InnovateMotorsport (@TM) to ScanM5X.
This feature was proposed by Implusive_Duc, a member of the Ducati.ms forums.
Based on his recommendation and pseudocode, I ported the feature from my ScanST application.
Updated : 02/01/2015
ScanM5X supports use of a Bluetooth-to-Serial RS232 adapter to acquire data from Innovate Motorsports sensors. This includes the LC-1, LC-2, and LM-2 wideband lambda sensors with digital RS232 serial out.
This allows wireless acquisition of Lambda data from an Android smartphone. Lambda values will be stored with ECU data such as TPS and RPM. It can be logged in a CSV, or a DIF file that can be imported into LogWorks (Innovate Motorsports @tm).
Disclaimer: I have no relationship with Innovate Motorsports. I am using the open-specification MTS protocol to interpret data.
Currently only two sensors are displayed: one for each cylinder. You can connect 1 LC1, 2 LC2, 1 LC + 1 LM-2, or any combination. At this time you can not read the ECU's internal lambda sensor at the same time as the Bluetooth sensors. To view the ECU reading you must disable Serial Data in the settings. (This may be added in a future release. Thank you for your patience!)
How do I connect?
To transmit the data, we suggest using a cheap Bluetooth dongle based on the HC-06 board.
These can be readily found on eBay by searching for "Bluetooth DB9 RS232".
The HC-06 board lacks advanced functionality, but is fairly simple to set up.
It has two DB9 connectors that are used with the Innovate programming cable.
The proprietary connectors Innovate uses and pinouts are also listed below if you wish to make your own cable.
Innovate LC-1 cable pinout 2.5mm stereo minijack plug
Innovate LC-2 cable pinout Molex MicroFit 3.0 (Micro-Fit 3mm) 4 way female plug
<![if !vml]>
<![endif]>
Any Bluetooth serial adapter supporting SPP (Serial Port Profile), 8N1, 19200 baud, and RS232 signal levels will work.
<![if !vml]>
<![endif]>
First step (Hardware):
THE FOLLOWING INSTRUCTIONS ONLY APPLY FOR THE HC-06 DONGLE PICTURED.
Different board versions (HC-05, HC-07, HC-08, HC-09) have different commands. Please see this link:
http://wiki.pinguino.cc/index.php/SPP_Bluetooth_Modules
When you receive the HC-06 dongle it will be set at a factory default of 9600 baud. The Innovate sensors use 19200 baud.
To change to 19200 baud, connect the HC-06 to the serial port of your PC or a USB-to-Serial (RS232) adapter. Start Hyperterminal (or for Windows 8, download free/open source Tera Term) and select the COM port the dongle is connected to. Configure the port to 9600 baud as shown below.
<![if !vml]>
<![endif]><![if !vml]>
<![endif]><![if !vml]>
<![endif]>
 The HC-06 cannot be programmed wirelessly and must be plugged in. Commands must be input instantaneously, not typed. The easiest way to do this is to first type the command into Notepad, then copy/paste it into Tera Term so it is entered at once.
Commands must be pasted exactly as displayed: no <spaces>, no <enter>.
<![if !vml]>
<![endif]><![if !vml]>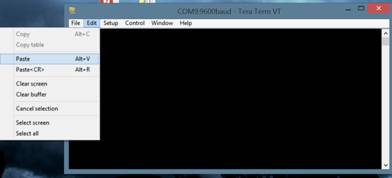 <![endif]>
To verify you are connected, paste "AT". Response "OK" should be displayed.
To change baud, paste "AT+BAUD5". Response "OK19200" should be displayed at the old baud rate, then the baud rate will change to 19200.
To verify the change, change the COM port speed to 19200 baud. Paste "AT". Response "OK" should be displayed.
Other settings may be changed: "AT+PIN1234" will change the Bluetooth PIN to 1234 on the next powerup. "AT+NAMEhc-06" will change the name of the adapter to "hc-06" (lowercase allowed).
Caution: To retain the benefit of control, keep the characters "HC" or "hc" in the name.
Please see the documentation.
Connect HC-06 to serial Output of device (LC or LM, Molex/Minijack to DB9). Power the HC06 (4.5v to 6V) with battery case (shorting 1 lead as shown) or 5V from USB. Connect the lambda sensor to 12V power, preferably using relay switched/fused power from the O2 +12v heater wire.
Second steep (ScanM5x setting):
<![if !vml]>
<![endif]>
Menu after connection to ELM
<![if !vml]>
<![endif]>
Choose "Settings"
<![if !vml]>
<![endif]>
Check "Serial data from Innovate"
<![if !vml]>
<![endif]>
Menu/Registre Serial-BT
<![if !vml]>
<![endif]>
List of devices paired.
Select "HC-06"
<![if !vml]>
<![endif]>
OK to restart
Next run, ScanM5X connect with ELM, then HC06 itself.